**PLEASE NOTE** The winner of the raffle will need to be able to collect the prizes from Bangor, North Down. 
The Raffle will run from 1st – 30th November and a winner will be chosen on the 1st December.
All money raised will be given to Storehouse North Down.
How to enter:
The raffle money is being collected in a 'Paypal Pool' as this seems to be the best way of collecting money without incurring fees and will mean we can give 100% of the money raised, direct to Storehouse.
Each £1 entered into the Paypal Pool (see link below) will give you one entry for the raffle – so if you donate £5 that's 5 chances to win.
To enter the raffle go to:
https://paypal.me/pools/c/8tNRSOuSDE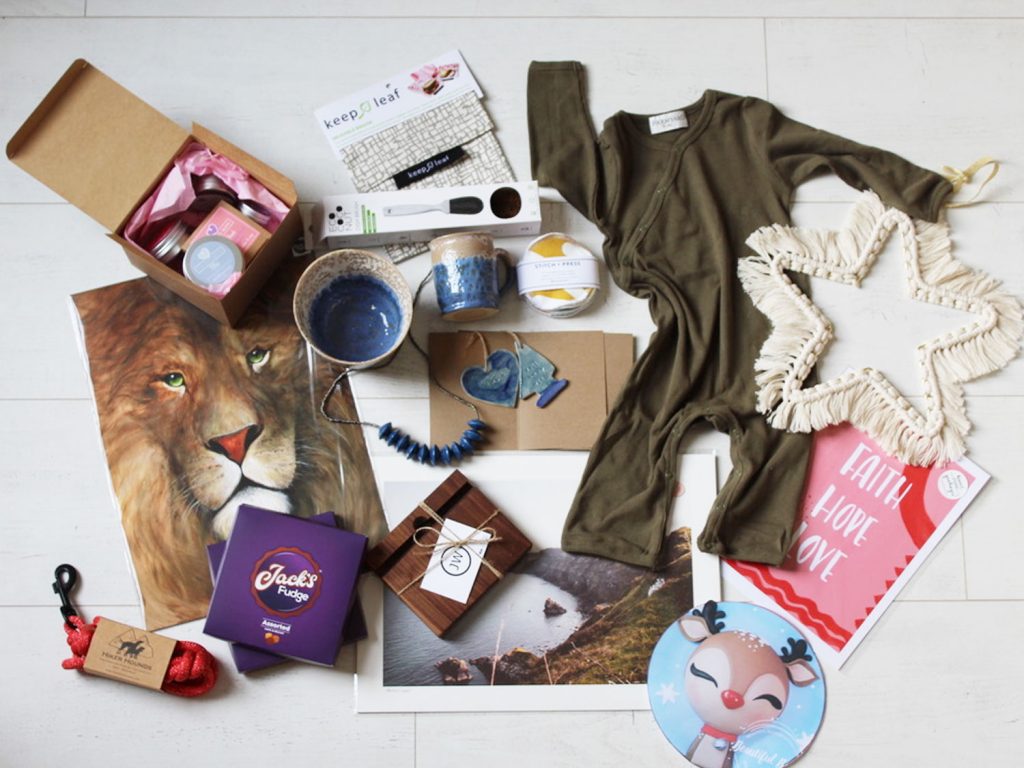 Storehouse North Down
Storehouse North Down is a fantastic organisation providing emergency food packages for individuals and families in crisis.
By entering the raffle you'll be supporting their great work and bringing hope and support to others this Christmas.
Find out more about Storehouse here.
The Prize!
The winner will be announced on the 1st December and will win the following items:
Two boxes of fudge from Jack's Fudge
A selection of handcrafted creams and balms from A Blissful Blend
An A3 'Aslan' print from Rara Makes
A handmade mug and bowl from Debbie Hunter Pottery and Prints
A necklace from Paperchain Jewellery
A photographic print of the Antrim Coast from Patrick & Jude Prints
Two clay hanging ornaments from Ebb & Flow
A tablet stand from Justin Wood
A set of 8 washable face wipes from Stitch + Press
A reusable 'baggie' and an eco coconut dish brush from Do Your Bit
A baby romper age 1-2yrs from Farmyard The Label
A macrame star from Hitch & Berry
A 'Faith, Hope and Love' print from Brown Paper Packages
A reindeer decorated Christmas fruit cake from Beautiful Bakes Belfast